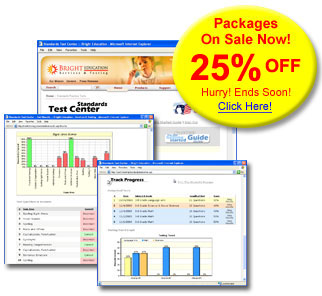 What's Included:
Unlimited Online Practice Tests

Over 1,000 questions per grade

Grades 1-8 Available!

Standards-Based Tests

Tests Language Arts, Math, Science & Social Science

Instant Test Results

Comprehensive Progress Graphs & Charts

Standards Test Center Access

Instant Set-Up! Begin Practicing Immediately!

No Child Left Behind Compliant
STAR Program Tests:
CAT/6 Survey (California Achievement Tests, Sixth Edition Survey)

CST (California Standards Tests)

CAPA (California Alternate Performance Assessment)

Packages From
Only $39.99 $29.97!
---
Give your student an advantage on the standardized exams!
---
Practice Also Available For:
ITBS, Florida FCAT, Georgia CRCT, California STAR Tests, SAT-9, CAT/6, SAT-10, Terra Nova, ISTEP, ISET, PSSA, SOL, TAKS, CSAP, and others!