About the Wisconsin Forward Exam
What is the Wisconsin Forward Exam?
---
Wisconsin Student Assessment System (WSAS) is a comprehensive statewide program designed to provide information about what students know in core academic areas. A key component of the WSAS is the Wisconsin Forward Exam which measures performance in English Langauge Arts, Mathematics, Science, and Social Sciences.
Practice Tests for the Wisconsin Forward Exam
---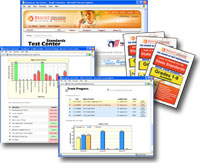 Our curriculum is focused around actual material that a student is likely to see on the upcoming Wisconsin Forward Exam test. Nationally known for delivering high quality and affordable materials that help students improve their scores, we provide you both paper-based instruction and easy to use online test preparation.
More About the Wisconsin Forward Exam Tests

---
State Testing Information for Wisconsin
Portions of the following material were taken from the Department of Education website. Please consult your state's education website for further information on the actual tests administered for your school.
---
The Wisconsin Student Assessment System (WSAS) is a comprehensive statewide program designed to provide information about what students know in core academic areas and whether they can apply what they know. The WSAS includes:

The Wisconsin Forward Exam at grades 3-8 in English Language Arts (ELA) and Mathematics, at grades 4 and 8 in Science, and 4, 8, and 10 in Social Studies
Dynamic Learning Maps (DLM) at grades 3-11 in ELA and Mathematics, and at grades 4 and 8 - 11 in Science,
ACT Aspire at grades 9 & 10,
The ACT Plus Writing at grade 11 for Reading, English, Mathematics, Science, and Writing, and
ACT WorkKeys at grade 11.
The federal No Child Left Behind Act requires all states to test all students in English language arts (ELA) and mathematics in grades 3-8 and once in high school. Student performance on these assessments is reported in proficiency categories and used for accountability determination at the school, district and state levels. Wisconsin State statute also requires students to take a science and social studies test These tests together create the Wisconsin Student Assessment System.

Building a Statewide Balanced Assessment System for Wisconsin

Wisconsin is working to ensure districts have balanced assessment systems in place. A balanced assessment system is a series of interrelated components designed to support the teaching and learning cycle. To impact student learning, the assessment system must be part of a 21st century system of learning with standards, curriculum, instruction, and support structures working in sync to ensure students are college and career ready


---

Please click the button below for information on our products: