About the New England Common Assessment Program
What is the New England Common Assessment Program?
---
State Testing Information for Vermont
Portions of the following material were taken from the Vermont Department of Education website. Please see our links and source sections at the bottom of the page for more details and references.
General Description of the Tests
New England Common Assessment Program (NECAP)
Grades: 3-8, 11
Subjects: Mathematics, Reading, Writing, Science
Developed in collaboration with the Rhode Island and New Hampshire departments of education
Measure students' academic knowledge and skills relative to the Grade Expectations for Vermont's Framework of Standards and Learning Opportunities
Vermont Developmental Reading Assessment (DRA)
Vermont Alternate Assessment Portfolio (VTAAP)
Among those who may qualify for accommodations or an alternate assessment are students who have been referred to a school's educational support team or students who have 504 plans.
National Assessment of Educational Progress (NAEP)
Grades: 4, 8
Subjects: Mathematics
Also known as "the Nation's Report Card"
The only nationally representative and continuing assessment of what America's students know and can do in various subject areas
NAEP does not provide scores for individual students or schools; instead, it offers results regarding subject-matter achievement for populations of students (e.g., fourth-graders) and groups within those populations (e.g., female students, Hispanic students).
Practice Tests for the New England Common Assessment Program
---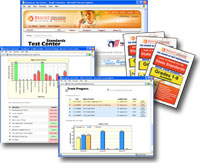 Our curriculum is focused around actual material that a student is likely to see on the upcoming New England Common Assessment Program test. Nationally known for delivering high quality and affordable materials that help students improve their scores, we provide you both paper-based instruction and easy to use online test preparation.
More About the New England Common Assessment Program Tests

---
---
Testing Schedule
New England Common Assessment Program (NECAP)
Mathematics, reading and writing assessments are administered in each October.
Science assessment are administered in each May.
Vermont Developmental Reading Assessment (DRA)
---
Links
Vermont Assessment
New England Common Assessment Program (NECAP)
Vermont Alternate Assessment Portfolio (VTAAP)
National Assessment of Educational Progress (NAEP)
---

Please click the button below for information on our products: