About the TerraNova 3
What is the TerraNova 3?
---
The TerraNova 3 is the latest version of the nationally administered TerraNova exams. The testing is used to provide achievement scores for students, teachers, and parents to better understand how well students perform in Language Arts, Reading, Math, Science and Social Sciences.
Practice Tests for the TerraNova 3
---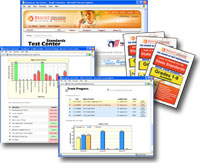 Our curriculum is focused around actual material that a student is likely to see on the upcoming TerraNova 3 test. Nationally known for delivering high quality and affordable materials that help students improve their scores, we provide you both paper-based instruction and easy to use online test preparation.
More About the TerraNova Third Edition Tests

---
General Description of the Tests
TerraNova, 3rd Edition
A standardized achievement test designed to provide achievement scores that are valid for most types of educational decision-making

Purposes:

- To measure concepts, processes, and objectives taught throughout the nation.
- To identify and examine areas of strength and weakness in the performance of students.
- To provide a basis for reports to parents and students.
- To inform teachers of the needs of their students. This helps in working toward increasing student achievement and closing achievement gaps.
Assessment Information
Grades: K-12

Subjects: Reading/Language Arts, Mathematics, Science, and Social Studies

Published by CTB/McGraw-Hill

Compare students with others in their grades around the nation

Scores are listed in percentiles. A 50 percent score means that a student did as well as half the students in their grade nationwide.
---
Test Description
TerraNova Common Core, Form 1:
Reading (Grades 3–8)
Math (Grades 3–8)
English Language Arts (Grades 3–8)

TerraNova Common Core, Form 2:
Science(Grades 3–8)
Social Studies(Grades 3–8)

TerraNova Multiple Assessments
Reading, Math (Grades 1–12)
Language (Grades 3–12)
Science, Social Studies (Grades 1–12)

TerraNova Complete Battery
Reading, Math (Grades K–12)
Language (Grades K–12)
Science, Social Studies (Grades 1–12)

TerraNova Survey
Reading, Math (Grades 2–12)
Language (Grades 3–12)
Science, Social Studies (Grades 2–12)
---

Please click the button below for information on our products: