About the Study at Home
What is the Study at Home?
---
Study at Home practice tests supplement your school's distance learning materials while students are away from school or are homeschooled. Our materials are comprehensive and include tests in Math, Reading & Language Arts, Science and Social Sciences. They are available for grades K-10 with affordable package options.
Practice Tests for the Study at Home
---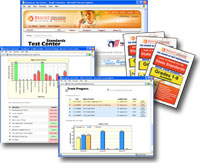 Our curriculum is focused around actual material that a student is likely to see on the upcoming Study at Home test. Nationally known for delivering high quality and affordable materials that help students improve their scores, we provide you both paper-based instruction and easy to use online test preparation.
More About the Study at Home Distance Learning Tests

---
---

Please click the button below for information on our products: