About the Stanford SAT-10
What is the Stanford SAT-10?
---
The SAT-10 or Stanford Achievement Test, 10th Edition is a nationaly recognized exam. The testing is used to provide achievement scores for students, teachers, and parents to better understand how well students perform in Language Arts, Reading, Math, Science and Social Sciences.
Practice Tests for the Stanford SAT-10
---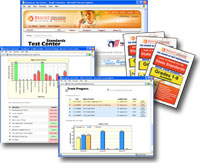 Our curriculum is focused around actual material that a student is likely to see on the upcoming Stanford SAT-10 test. Nationally known for delivering high quality and affordable materials that help students improve their scores, we provide you both paper-based instruction and easy to use online test preparation.
More About the Stanford 10, SAT-10 Tests

---
Testing Information for the SAT-10
Portions of the following material were taken from the Pearson PLC website.
General Description of the Tests
Stanford Achievement Test Series, Tenth Edition (Stanford 10, SAT-10)
Purposes:

- To guide teaching and learning toward high achievement standards.
- To measure performance on standards.
The multiple-choice assessment will help educators find out what students know and are able to do.

- Administrators will obtain reliable data to evaluate progress toward meeting the challenges set forth by the No Child Left Behind Act and national and state standards and high expectations.
- Teachers will identify and help children who are at risk of being left behind.
- Parents will understand what their children know and can do and how they can help.
Assessment Information
Grades: Thirteen Levels - Kindergarten - Grade 12
Subjects: Sounds and Letters, Word Study Skills, Word Reading, Sentence Reading, Reading Vocabulary, Reading Comprehension, Mathematics, Mathematics Problem Solving, Mathematics Procedures, Spelling, Language, Science, Environment, Social Science, Listening
Include three types of questions: multiple choice, short answer, and extended response.
Scores

- Criterion-Referenced Scores – four levels of performance: below basic, basic, proficient, and advanced
- Norm-Referenced Scores – based on K-12 population
Reports

- Student Report – Obtain information about students' strength and needs.
- Group Report – Analyze results by class, school, or district.
- Home Report – Provide parents with easily understood information and suggestions for home activities.
- (new) Performance Standards Report – Obtain standards based information about what students know and can do.
Test Description
Reading

- Measure phonemic awareness, decoding, phonics, vocabulary, and comprehension.
- Sounds and Letters - has an emphasis on phonemic awareness and phonics and closely reflects reading research findings
- Reading Comprehension - measures students comprehension within the framework of three types of materials or purposes for reading: literary, informational, and functional text
Mathematics

- Measure state standards including number sense and operations; patterns, relationships, and algebra; geometry and measurement; and data, statistics, and probability.
- Mathematics Procedures - measures the ability to apply the rules and methods of arithmetic to problems that require arithmetic solutions
Language

- Measures students' achievement in applying the principles that form effective writing.
Spelling

- Assesses objectives based upon the phonetic and structural principles taught at each grade level.
Listening

- Listening Vocabulary: students demonstrate recognition of the common meanings of spoken words encountered in various types of activities
- Listening Comprehension: assesses listening comprehension with dictated selections and questions that reflect the listening materials students hear in school and outside of the classroom
Science

- The disciplines of life science, earth science, physical science, and the nature of science are represented.
- Students must use reasoning skills throughout the test to reach answers. These skills include estimating, making simple calculations, seeking patterns, making observations, recognizing cause and effect, reading standard instruments, and drawing conclusions.
Social Science

- Social Science: measures the concepts important for the development of citizenship
- History: focuses on the history of the United States, the history of Western civilization, and the history of non-Western peoples and societies sharing our interdependent world
- Geography: tested according to the five themes of location, place, human-environment interaction, movement, and region
- Political Science: assesses the basic understanding of the U.S. system of government
---
Testing Plan
The concepts and skills assessed by each level of are those ordinarily taught during the second half of any given year and the first half of the following year. This midyear-to-midyear configuration provides for a more focused assessment of students tested in the spring of one grade and the fall of the next.
It also provides more opportunity to monitor academic growth when it is administered in the fall and the spring.
---

Please click the button below for information on our products: