About the Ohio State Tests (OST)
What is the Ohio State Tests (OST)?
---
Ohio's State Tests are the latest version of the Common Core based standardized testing for Ohio administered by AIR. Testing is administered for all of the core subjects including Reading / Language Arts, Math, Science and Social Sciences. This test replaced the Ohio PARCC testing.
Practice Tests for the Ohio State Tests (OST)
---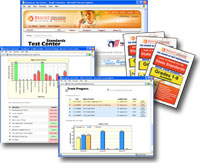 Our curriculum is focused around actual material that a student is likely to see on the upcoming Ohio State Tests (OST) test. Nationally known for delivering high quality and affordable materials that help students improve their scores, we provide you both paper-based instruction and easy to use online test preparation.
More About the Ohio State Tests (OST) Tests

---
About the Ohio State Tests (Common Core)
(Part of the information shown was taken from the Ohio Department of Education's website.)
In 2010, Ohio adopted new, higher learning standards for
students in math, English language arts, science and social
studies. Ohio's Learning Standards allow for all kinds of learners
to become well-prepared for college and careers.
Through our learning standards, students will learn to apply
increasingly difficult math concepts to many different situations.
Under the new English language arts standards, students will learn
better reading, writing and communication skills. They will closely
analyze what they are reading, write arguments with claims and
reasoning, and think critically to draw their own conclusions. Ohio
students also will build strong foundations in science and
technology and learn to apply them to real world experiences, often
in their own communities. Through the social studies standards,
students learn content as well as critical thinking skills needed by
citizens.
How will these standards benefit students?
Students will study only the most important and useful concepts
within each subject, each year. They will drill much deeper into each
area, learning to apply more knowledge and skills in the subject
than ever before. The standards will help students see how different
subjects like math, science, social studies and English language
arts overlap.
Why do we need learning standards?
It's important that students, families and educators know what skills
and knowledge are expected to graduate from high school. Ohio's
students will not simply memorize facts that are forgotten once they
pass the test. A high school diploma will mean more. Students will
graduate with the abilities to compete for Ohio's and the world's
best jobs. They will make more informed and empowered citizens.
They will lead Ohio forward into a brighter future.
Other state learning standards
Ohio also has state learning standards in fine arts, world languages
and physical education. While there are no state tests in these
content areas, instruction or credits are required for graduation.
---

Please click the button below for information on our products: