About the New Jersey PARCC Assessment
What is the New Jersey PARCC Assessment?
---
New Jersey's State Assessment Program consists of the Partnership for Assessment of Readiness for College and Careers (PARCC). The PARCC assessments evaluate achievement in English language arts/literacy in grades 3 through 11; and math in grades 3 through 8 and at the conclusion of Algebra 1, Algebra 2 and Geometry programs. The PARCC assessments evaluate students' capability to use and show understanding of concepts instead of memorizing facts.
Practice Tests for the New Jersey PARCC Assessment
---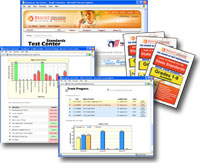 Our curriculum is focused around actual material that a student is likely to see on the upcoming New Jersey PARCC Assessment test. Nationally known for delivering high quality and affordable materials that help students improve their scores, we provide you both paper-based instruction and easy to use online test preparation.
More About the New Jersey PARCC Assessment Tests

---
About the PARCC
Schools in New Jersey use the PARCC assessment results as an educational checkup to make sure students are meeting grade-level expectations and stay on course to the next grade level and eventually, high school graduation. Instructors can use this information to improve the curriculum further, better prepare instruction and provide more individualized instruction to address specific student requirements. The results can assist teachers to recognize where a student is excelling and where she or he needs extra help or enrichment. State assessment information can even be utilized to evaluate individual student progress over time. Districts use the assessment data to evaluate the efficiency of their curriculum, interventions and plans. Test results through the PARCC assessment demonstrate how effectively a student did in subcategories of abilities in each topic to determine strengths and weaknesses.

Parents can use assessment results as a springboard to begin a dialogue with teachers regarding how they could support their child keep on course and understand how they could check out their child's progress over time. State assessments evaluate whether a student attained what is expected of his or her course or grade. Parents can use a child's test results to work with teachers to recognize sources that might supply extra help and to better understand her or his requirements and strengths. It is crucial to keep in mind that state assessments are just one measure of student accomplishment. They should be utilized together with the various types of evaluation used by each child's teachers in the classroom to obtain a complete picture of the child's achievement and development in educational areas.

---
New Jersey's Commitment to Higher Standards
New Jersey has been actively engaged in the American Diploma Project Network since 2005, aligning its standards to the expectations of postsecondary education and employers. The New Jersey State Board of Education adopted the Common Core State Standards in mathematics and English language arts/literacy in June 2010. The state joined the Partnership for Assessment of Readiness for College and Careers in the spring of 2010, became a Governing State in the spring of 2011, and actively helped shape PARCC's proposal for a common, next-generation assessment system.
Postsecondary Commitment to College and Career Readiness
The PARCC assessment measures real world skills that colleges value, like critical thinking and problem solving. That's why all of New Jersey's public two- and four-year colleges and universities have committed to participate in PARCC. They helped develop the assessments to ensure that it measures college readiness.
New Jersey's college and universities will use those assessments as one of the indicators of a student's readiness for entry-level, credit-bearing college courses – and because these institutions educate every freshman entering public colleges and universities in New Jersey, we're ensuring that our students succeed.
---

Please click the button below for information on our products: