About the New Hampshire NHEIAP and NECAP
What is the New Hampshire NHEIAP and NECAP?
---
State Testing Information for New Hampshire
Portions of the following material were taken from the New Hampshire Department of Education website. Please see our links and source sections at the bottom of the page for more details and references.
General Description of the Tests
New Hampshire Educational Improvement and Assessment Program (NHEIAP)
Grades: 3, 6, 10
Subjects: English Language Arts, Mathematics, Science, Social Studies
To establish what NH students should know and be able to do and to develop and implement effective methods for assessing that learning and its application so that local decisions about curriculum development and delivery can be made
The results from the state tests are used to produce individual-student proficiency reports as well as diagnostic reports at the school, district, and state levels; reports are standards-referenced rather than norm-referenced.
New England Common Assessment Program (NECAP)
Grades: 3-8, 11
Subjects: Mathematics, Reading, Writing, Science
The New Hampshire Department of Education, Rhode Island Department of Education, and Vermont Department of Education have developed a common set of Grade-Level Expectations, known as the New England Common Assessment Program Grade-Level Expectations (NECAP GLEs).
New Hampshire Alternate Assessment (NH-Alt)
Grades: 2-8, 10, 11
Subjects: Reading, Mathematics, Writing, Science
For students who are identified by their IEP teams as appropriate for alternate statewide assessment based upon alternate achievement standards
A portfolio-based instructionally embedded assessment process
National Assessment of Educational Progress (NAEP)
Grades: 4, 8, 12
This assessment focuses on what America's students know and are capable of doing in various subject areas by testing representative samples of students.
NAEP does not provide individual scores for students or even schools; rather, it offers results regarding subject-matter achievement, instructional experiences and school environment for populations of students (e.g., fourth graders) and subgroups of those populations (e.g. female students, Hispanic students).
Practice Tests for the New Hampshire NHEIAP and NECAP
---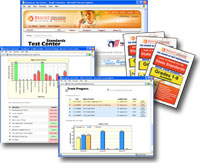 Our curriculum is focused around actual material that a student is likely to see on the upcoming New Hampshire NHEIAP and NECAP test. Nationally known for delivering high quality and affordable materials that help students improve their scores, we provide you both paper-based instruction and easy to use online test preparation.


More About the NHEIAP and NECAP Tests
---
---
Links
---

Please click the button below for information on our products: