About the Maryland School Assessment (MSA)
What is the Maryland School Assessment (MSA)?
---
State Testing Information for Maryland
Portions of the following material were taken from the Maryland Department of Education website. Please see our links and source sections at the bottom of the page for more details and references.
General Description of the Tests
Maryland School Assessment (MSA)
Grades: 3-8
Subjects: Reading, Mathematics, Science
Includes multiple-choice questions and questions requiring written responses
Measures basic as well as higher level skills
Students take the tests for approximately 90 minutes each day. There are four days of testing––two days for reading and two days for math.
The testing vendor sends the scores for individual students to local school systems. The school systems then distribute the scores to parents.
The MSA scores show how well students learned the reading and mathematics skills in the Voluntary State Curriculum. A norm-referenced score is also provided to show how students performed compared to other students across the nation.
Alternate Maryland School Assessment (ALT-MSA)
Grades: 3-8, 10
An assessment designed for students with significant cognitive disabilities who are unable to participate in a regular assessment, even when accommodations are provided
Practice Tests for the Maryland School Assessment (MSA)
---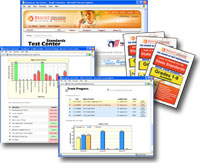 Our curriculum is focused around actual material that a student is likely to see on the upcoming Maryland School Assessment (MSA) test. Nationally known for delivering high quality and affordable materials that help students improve their scores, we provide you both paper-based instruction and easy to use online test preparation.
More About the Maryland School Assessment (MSA) Tests

---
---
Testing Schedule
---
Links
---

Please click the button below for information on our products: