About the Kentucky K-PREP
What is the Kentucky K-PREP?
---
State Testing Information for Kentucky

Portions of the following material were taken from the Kentucky Department of Education website. Please see our links and source sections at the bottom of the page for more details and references.
General Description of the Tests
These assessments are collectively named the Kentucky Performance Rating for Educational Progress (K-PREP) tests. ​The new assessment for grades 3-8 is a blended model built with norm-referenced test (NRT) and criterion-referenced test (CRT) items which consist of multiple-choice (mc), extended-response (er) and short answer (sa) items.
The NRT is a purchased test with national norms and the CRT portion is customized for Kentucky. NCS Pearson has been awarded the contract to provide all assessments for grades 3-8 and writing on-demand at high school. NCS Pearson currently provides large-scale assessment services in more than 25 states and for the U.S. Department of Education.
Practice Tests for the Kentucky K-PREP
---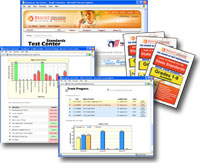 Our curriculum is focused around actual material that a student is likely to see on the upcoming Kentucky K-PREP test. Nationally known for delivering high quality and affordable materials that help students improve their scores, we provide you both paper-based instruction and easy to use online test preparation.
More About the Kentucky Performance Rating for Educational Progress (K-PREP) Tests

---
---
Testing Schedule
---
Links
---

Please click the button below for information on our products: