About the Connecticut Smarter Balanced Summative
What is the Connecticut Smarter Balanced Summative?
---
The Connecticut Smarter Balanced assessment testing is a comprehensive program designed to provide information about what students know in core academic areas. It is currently used for English Language Arts (ELA) and Mathematics. This replaces the Connecticut Mastery Test (CMT).
Practice Tests for the Connecticut Smarter Balanced Summative
---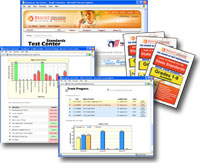 Our curriculum is focused around actual material that a student is likely to see on the upcoming Connecticut Smarter Balanced Summative test. Nationally known for delivering high quality and affordable materials that help students improve their scores, we provide you both paper-based instruction and easy to use online test preparation.
More About the Connecticut Smarter Balanced Summative Tests

---
State Testing Information for Connecticut
Portions of the following material were taken from the Department of Education website. Please consult your state's education website for further information on the actual tests administered for your school.
---
The Connecticut State Department of Education is committed to ensuring that all students leave high school prepared for postsecondary success in college and careers. The Smarter Balanced assessments are aligned to Common Core State Standards in English language arts/literacy and mathematics. A balanced assessment system - which includes summative assessments, optional interim assessments, and formative assessment practices - provides tools to improve teaching and learning. The assessment system includes:

A summative assessment administered to students in Grades 3 through 8 consists of two parts: a computer adaptive test and performance tasks. This assessment can be used to describe student achievement and growth of student learning as part of program evaluation and school, district, and state accountability systems.
Optional computer adaptive and fixed form interim assessments administered at locally determined intervals. The interim assessments allow teachers to check student progress throughout the year, giving them actionable information to inform instruction and help students meet the challenge of college- and career-ready standards.
A Digital Library of instructional and professional learning resources aligned to the Common Core State Standards to help educators implement the formative assessment process.
An Online Reporting System that provides assessment results to students, parents, teachers, and administrators. The reports will show student achievement and progress toward toward college and career readiness.

- Mandatory comprehensive accountability measures that
include computer adaptive assessments and performance
tasks, administered in the last 12 weeks of the school year
in grades 3–8 and 11 for English language arts(ELA)/literacy
and mathematics;
- Designed to provide valid, reliable and fair measures of
students' progress toward and attainment of the knowledge
and skills required to be college- and career-ready;
- Capitalize on the strengths of computer adaptive testing
(e.g. efficient and precise measurement across the full range
of achievement and quick turnaround of results); and,
- Produce composite content area scores, based on the
computer adaptive items and performance tasks.
---

Please click the button below for information on our products: